THE BEST CHOICE IN CUSTOM JERSEY FRAMING
CHOOSE YOUR STYLE
Pick your favorite framing style online and checkout via our secure payment gateway.
FREE SHIPPING
Print your free shipping label and pack and ship your jersey to our facility in Dallas Texas!
TEAM OF EXPERTS
A team member will reach out upon receipt of jersey to confirm mat colors and layout.
CUSTOM JERSEY FRAMING AND DESIGN
Transform your space with custom framed jerseys
Stop letting your jerseys and sports memorabilia collect dust and turn them into a work of art! Transform your space and show your allegiance to your favorite sports teams with a custom framed jersey.
"Connor Stavinoha was extremely thorough and kept me updated throughout the framing process. Incredible quality and great service, thanks again. I would happily recommend this company and working with Connor to my friends."
"Connor was fantastic and gave recommendations as to what would look best. All 3 jerseys turned out fantastic and all were complete in a week. Very affordable compared to other framing shops. Great job and highly recommend!"
"Drew was a great help in getting my jerseys framed and the whole experience was awesome and quick. I had them frame my Jaylen Waddle and Tyreek Hill Jersey's and was extremely impressed with how they came out!"
CHEF HOPPIE - CELEBRETY ATHLETE CHIEF
"I ONLY TRUST THE BEST WITH MY PRIZED Jerseys"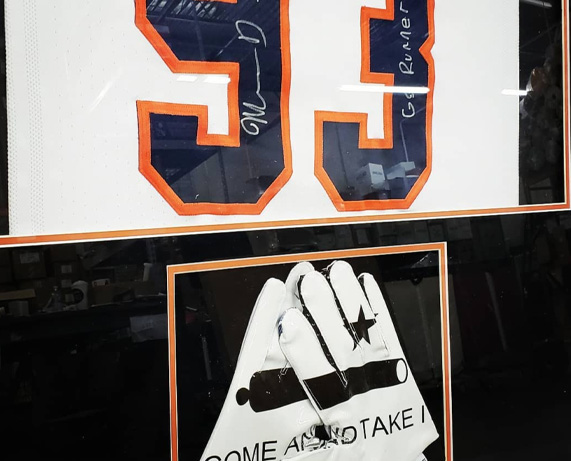 The number one trusted framing shop
College Programs across the country
Our framing department has designed and customized framed jerseys as end of year awards for the top collegiate sports programs all across the nation for 10+ years and now we are offering our services to you!
JOIN OUR EMAIL LIST TO RECIEVE FUTURE PROMOTIONS